August 3, 2006
September 12, 2005
This palmcast is 5 minutes and 55 seconds long. It discusses a great example of an open source application in the Palm community called CryptoPad.
Discuss | Archives
---
| | |
| --- | --- |
| Latest News and Information | |
---
---
Tue Nov 01, 2005 1:22 pm
My wife and I are proud to announce the birth of our fourth daughter, Emma Katelyn. She was born on Friday, October 28, 2005. She weighed 8 lb 4 oz and was 21 inches long.

She is a real blessing and miraculous reminder of how precious life is. I want to thank everyone for their thoughts and prayers.

Sincerely,
Lance
Permalink | Discuss (6)
---
Thu Oct 27, 2005 11:18 pm
I will be out of pocket for a while as my wife and I will probably be having a baby tomorrow. While I am not positive, I wanted to let you know the reason behind the lack of updates here at PalmFocus, if and when we do have the baby. Take care.
Permalink | Discuss (5)
---
Wed Oct 26, 2005 10:49 pm
I really did not think that we would have to create a software compatibility list for the Palm TX since this is the fifth device to be released by Palm that is using NVFS. However, there appear to be other subtle differences apart from NVFS that make the Palm TX a unique device, such as the DIA.

Why Palm continues to do this to developers, I really do not know. However, we have to turn to the developers and the Palm community to provide the answers.

With that said, if you have a Palm TX and have problems with a software title that seems to work fine for Treo 650 or Tungsten T5, please let us know. Links to the software compatibility lists are found on the left side of the page (LifeDrive, Treo 650, Tungsten T5, and TX). Thank you!

Palm TX Software Compatibility List
Forum to Discuss Specific Software Issues for the Palm TX
Permalink | Discuss (1)
---
Sat Oct 22, 2005 10:58 am

We are proud to announce the mobile version of PalmFocus that includes the following:
Read the Latest News

Order from the Software Store

Read the Posts in the Forum

Listen to the Palmcasts

Read the Newsletters

Read News from Other Sites.
In addition, there is a special RSS feed for mobile devices that will take you to the mobile version of the latest news on PalmFocus.

Check Out the Mobile Version of PalmFocus

Of course, there is also a link to the mobile version at the top of the page, as well.
Permalink | Discuss (0)
---
Fri Oct 21, 2005 11:39 pm
Although MobiBeat.com is just in its infancy, I thought I would go ahead and make a RSS feed available for the site. However, I do encourage you to visit MobiBeat as it grows. I encourage you to participate and help shape its future.

RSS Feed for MobiBeat.com
Link to MobiBeat.com
Permalink | Discuss (0)
---
Thu Oct 20, 2005 12:34 pm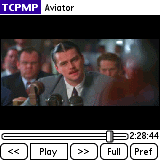 TCPMP (The Core Pocket Media Player) has been bumped up to version 0.66j. The updates include the following:
language CS updated by Triple T

WinCE: codepage handling fixes

WinCE: stereo mode (swapped,join,left,right) fix

PalmOS: Treo650 exit crash fixed (Treo650 screen blanking feature removed)
Download TCPMP - Version 0.66j

I also wanted to remind you that you can watch a DVD on your handheld using TCPMP. In fact, I have published a guide to help you convert your DVD to a file that can be played back on your handheld (Palm OS or Pocket PC).

Users Guide: Convert a DVD to View on a Handheld
Permalink | Discuss (1)
---
Thu Oct 20, 2005 12:12 pm
As you may or may not know, I run this web site on my own. I take it pretty seriously as I really want to help others get more get the most out of their device without taking all the time I have used in getting things to work.

However, I realize that I put myself through a lot of unnecessary stress in keeping PalmFocus up and going. With MobiBeat.com, I hope to give a more relaxed perspective on mobile technology without adding a lot of pressure on me or you to keep up with everything going on in the mobile world.

With that said, feel free to come by and visit us over at MobiBeat. Relax and make yourself at home.

Sincerely,
Lance
Permalink | Discuss (0)
---
Tue Oct 18, 2005 8:38 pm
Three sharks in three days. We are not talking about the animal, here. We are talking about the Palm OS developer of Ludus Technologies. He has managed to release three great programs in three days to help Palm users. The programs are SharkMsg (Palm Treo 600/650), SharkTXFix (Palm TX), and SharkNav (Palm E2, LifeDrive, T5, Treo 600/650, TX). Plus, he has released a couple of updates to these applications, as well. Keep up the great work!

Read More at Ludus Technologies
Permalink | Discuss (2)
---
---
Tue Oct 18, 2005 8:20 pm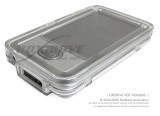 BoxWave is excited to announce the new ActiveCase for the Palm LifeDrive!

Design truly meets form and function as the crystal-clear design of ActiveCase enables you to view your calendar and contacts conveniently, reducing the hassle of having to open a case! Its solid construction protects your LifeDrive while locking the handheld securely into place. ActiveCase is custom contoured shaped to perfectly fit to the shape of your Palm LifeDrive!

Better yet, ActiveCase for your Palm LifeDrive includes a high quality, simple-to-use, and detachable belt clip!

ActiveCase for Palm LifeDrive
Palm LifeDrive Product Line
Permalink | Discuss (0)
---
---